PRESS

Aspec(t) Zalaski - Droga (CD, Monotype 2015)
Aspec(t) Zalaski are a fairly demented trio of frenzied players…the drummer is Polish performer Andrzej Za??ski who we have heard adding his percussive skills to the Fingerprints album by Mirt (CAT SUN, 2013). He's joined by the young Italian electro-acoustic genius Mimmo Napolitano, who records and performs as SEC_, here wielding his reel-to-reel tape recorder in unorthodox fashion and belching out samples from his evil desktop boxes. We know SEC_ of old, as part of the Strongly Imploded group, and with his fine solo records such as Outflow and Moscaio. Fellow Italian Mario Gabola – also a member of Strongly Imploded – comes our way from Salerno where he runs Viande Records, sometimes to release his own brand of home-made electronic noise; his innovation here is to use a "self-built photosensitive system", a device which is most intriguing, and may work on the same principles as Daphne Oram's Oramics.
On Droga (MONOTYPE RECORDS MONO097), this threesome turn in 19 short tracks manifesting their craft; restless, sputtery, and disjointed noise is their stock-in trade, and they sometimes find they can say all they want in less than a minute, although admittedly the majority of their exploits find them sustaining the energy-burst past the envied two-minute mark without pausing for breath. Za??ski's wild vocalising is one of many high spots; he gasps and gibbers like an enthused Neanderthal man let loose in the saber-tooth shopping mall, and his mad drumming gives many a lurching jolt to the trio's work, effectively shoving them off the edge of a cliff. The two Italians are capable of settling into workaday fizz and burbling, but they occasionally manage to send up a firework of whoopy, screechy noise.
An exhausting listen; maybe this is what happens when fourth-generation punk rock meets up with improvised noise. From 21st January 2016.
Ed Pinsent
http://www.thesoundprojector.com/2016/06/04/for-tourists-only/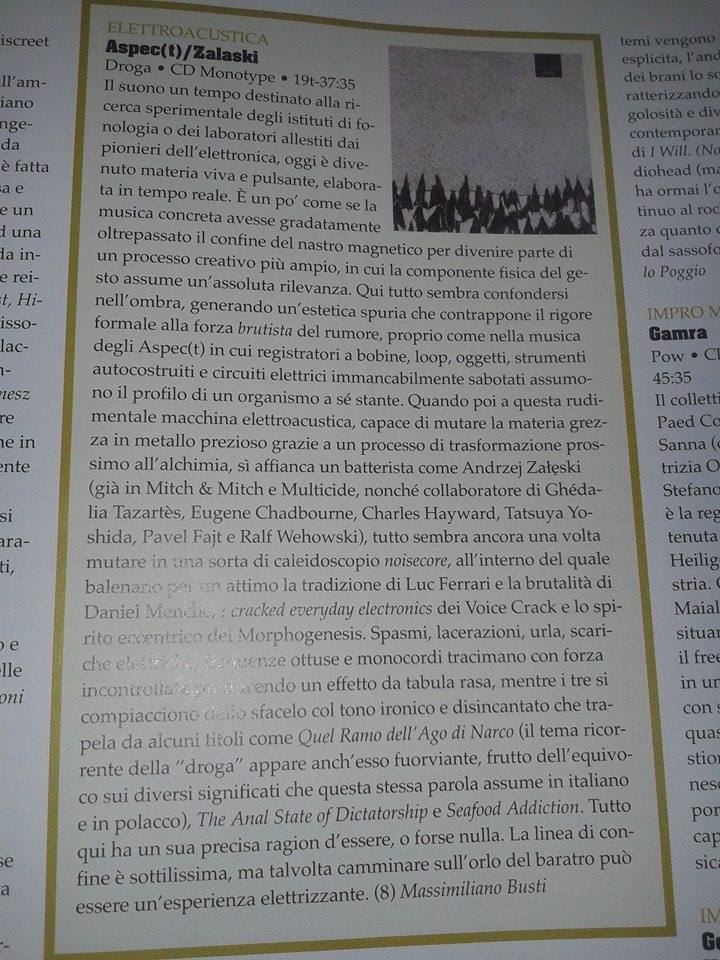 VITAL WEEKLY #1017
Aspec(t) Zalaski - Droga (CD, Monotype Records 2015)
[...] Aspec(t), Napoli's duo of SEC_ (reel-to-reel tape
recorder, no-input mixing boards and samples) and Mario Gabola (self-built photosensitive

 


system, no-input mixing board) who in April 2013 teamed up with Andrzej Zalaski on drums

 


and voice to record what became 'Droga'. It has three more pieces than Hurtado/Z'EV, but

 


it lasts half the length. I am not sure if I heard Zalaski's work before, but I sure know

 


Aspec(t) and their noisy approach to improvisation. With pieces ranging from mere 18

 


seconds to one that lasts seven (which is a rarity, one to two minutes is more likely on

 


this album), they hold on to the punk aesthetics in the field of improvisation. Everything

 


bursts here with noisy electrical currents, beeping and scratching, feedback explosions

 


and all along Zalaski is banging the hell out of his drum kit. This is some very tiring

 


music, and I mean this in a most respectful way. This is a 38 minute concentrated burst

 


of energy, very vibrant, very punk. It seems that drum sounds produced by Zalaski are

 


picked up by whatever means Aspec(t) have, adding to the real-time cut-up style they have.
It's all very made and breaks music. Like said: one remains behind very tired, but also

 


utterly delighted. The best of noise, improvisation and punk, combined into one blast.
(FdW)
http://www.vitalweekly.net/1017.html

Aspec(t) live @ Emitter Micro festival 2015, Berlin
RECENTLY BERLIN'S EXPERIMENTAL SOUND SCENE WAS TREATED TO THE BIANNUAL EMITTER MICRO FESTIVAL – THREE CONSECUTIVE EVENINGS OF 'SOUND AND MORE' (ACCORDING TO THE PROGRAM) SPREAD ACROSS THREE DIFFERENT VENUES IN DEUTSCHLAND'S BURGEONING MECCA FOR INTELLECTUAL-AUDIO-EXPLORERS AND WEIRDO-NOISE-TYPES. AUSTRALIAN AUDIOVISUAL ARTIST SCOTT SINCLAIR SUBMERGED FOR THREE DAYS AND RESURFACED ENLIGHTENED.
tekst: Scott Sinclair
Synaesthetic
Put simply,
Aspec(t)
are an improvised music duo from Naples, Italy, but in actuality their work encompasses a level of progressiveness and complexity which places them outside most 'avant-whatever' genre-boxes. With an arsenal of antiquated and self-made electronics (Revox reel-to-reel, tape machines, contact mics, no-input mixers, etc.), Aspec(t) carefully caresses, scratches, and smashes their installation of instruments to create a brutal yet wholly attentive cacophony of Truly New Real-time Body Music. It is a rare thing to experience a single piece of music where one feels the structures of musique concrète and abstract sound art are on equal terms with the pure energies of harsh noise, power electronics, free improv, and even modern dance electronica.
Additionally, there is a wonderfully synaesthetic visual element to Aspec(t)'s performance as they use various lights to trigger and manipulate sound events. This is no gimmick: one gets the impression that these sounds are a sincere part of Aspec(t)'s musical pallet, with or without illumination. Towards the intense final climax of their set Aspec(t) really starts to makes us feel the specially installed church sound system, as a few single devastating bass hits BOOM through their flowing tapestry of frequencies. Blasphemous and evil… in the best possible way.
improv sphere
DAVE PHILLIPS & ASPEC(T) - Medusa (CD by Noise-Below, 2014)
Une collaboration entre Dave Phillips et le duo Aspec(t), intitulée Medusa. On retrouve donc SEC_ au Revox, à l'électronique et peut-être au synthé ou à l'ordi, Mario Gabola au saxophone acoustique ou en feedback, plus quelques objets percussifs, et Dave Phillips aux field-recordings.
La pochette n'indique pas les instruments et les outils utilisés, je ne suis pas très sûr de ce que j'avance. Elle n'indique pas grand-chose d'ailleurs, hormis le titre des 23 pistes qui composent ce disque, et surtout que les matériaux initiaux ont été enregistrés à Naples en 2011, puis qu'ils ont été « disséqués et réassemblés » entre janvier et mai 2013, à Zürich (où réside Dave Phillips) et à Naples (d'où vient le duo italien). Je ne suis donc pas sûr que les trois musiciens aient joués ensemble en live lors de ces enregistrements de 2011, mais la composition de ce disque s'est apparemment faite à distance en 2013.
Quoi qu'il en soit, le résultat est surprenant. On distingue toutes les personnalités, personne n'a essayé de « copier » l'esthétique de l'autre, ni de la mettre en avant, chacun fait ce qu'il fait d'habitude, et le fait très bien. On navigue donc entre le field-recording psychoacoustique, l'improvisation électroacoustique, la noise et la musique concrète sans discontinuité. Ce qui est surprenant, par-dessus-tout, c'est que l'entreprise était risquée car ces différentes esthétiques n'ont pas grand-chose à voir, et pourtant, elles collent très bien ensemble – ce qui, à mon avis, est surtout du au long travail de remaniement à distance et en studio des enregistrements initiaux.
Concrètement, de quoi s'agit-il ? Pour ceux qui connaissent SEC_, Mario Gabola et Dave Phillips, ce n'est pas difficile de s'imaginer la rencontre, ils font tous ce qu'ils font d'habitude, mais l'assemblage reste tout de même étonnant à mon avis. Mais pour ceux qui ne les connaissent pas tous, sachez que ce disque offre un cocktail explosif de courtes vignettes sonores composées de cris bestiaux, de voix transformées (accélérées, découpées, hachées, etc.) par le biais de bandes magnétiques, d'explosions impromptues de bruit harsh, et de techniques étendues et électroacoustiques au saxophone. Un disque qui navigue avec aisance entre des compositions très calmes et continues, d'autres qui opposent les explosions de bruit et d'improvisations au Revox aux enregistrements de terrains sombres et continus, ou aux sons concrets de Gabola (percussifs ou instrumentaux).
Le trio propose des pièces ultra violentes et déstructurées, d'autres plus calmes et linéaires, des pièces concrètes, d'autres totalement abstraites et bruitistes, mais avec toujours une grande attention au son et une inventivité sonore surprenantes. Car tous ces musiciens ont un langage qui leur est propres, un langage créatif, puissant, extrême, et ils vont tous très bien ensemble.
Julien Héraud - http://improv-sphere.blogspot.gr/2014/09/dave-phillips-sec.html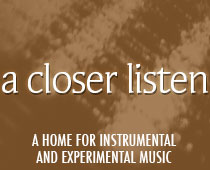 DAVE PHILLIPS & ASPEC(T) - MEDUSA (CD, Noise-Below 2014)
Medusa, the first collaboration between Dave Phillips (DP) and Aspec(t), (Mario Gabola and Mimmo Napolitano) is no doubt challenging music, but as the liner notes remind us, we live in challenging times. One aspect of global climate change that's been all too often neglected is the impact human activities have had on our oceans. Medusa refers not just to the mythical Gorgon but is also Italian for jellyfish, giving the title an added weight with the evocation of the monstrous.
Monbiot believes that the jellyfish is a good symbol for the threat we are currently facing, representing the "the collapse of the ecosystem and the spinelessness of the people charged with protecting it." These three musicians clearly feel the same, and have mobilized this symbol as an artistic response worthy of the cause. In the above referenced article, Monbiot poses the question, "Why is it still acceptable to eat the endangered large predators of the sea?" and explains the seriousness of the issue. Inspired by Monbiot's work, Medusa is a powerful expression of this dire situation in the form of tightly structured musique concrète events and freewheeling, at times raucous, harsh-noise. Over the course of 23 tracks and 50 minutes, the listener is subjected to all manner of sounds but it is clear that the utmost intention lurks just below the surface of these churning waves of chaos. Most of these chapters are just a minute or two, some as short as five seconds, setting a quick pace for our journey. Rather than a constant drone or wall of sound, the trio incorporate passages of relative silence into their compositions, a masterful use of dynamics to maximize the impact.
The majority of the sounds employed are abstract and unrecognizable, the theme expressed through mood and track titles rather than representation. Don't expect any cliched 'submerged' filters, dripping water or splashing waves. At times brutal, other passages feature enough repetition to suggest a groove before being interrupted by a sudden shift or a lingering drone. Much of the material feels unrestrained and improvisatory in its energies, but arranged and composed so as to impose an overarching order in the form of a dedicated narrative. Channeling the image of an ecosystem under threat, an ecosystem so vast that any threat to it is a threat to us all, much of Medusa is understandably as angry and terrifying as its mythic namesake.
Waves of feedback recede into mechanical noise, field-recordings come and go, shots are fired and screams roared, words cut up and reversed so as to be denied meaning. To me, the use of feedback is the dominant trope, and nowhere has feedback been so apt of an aesthetic symbol as on Medusa. As a result of over-fishing, the fish "have been replaced by jellyfish, which now outweigh them by three to one. The jellyfish eat the eggs and larvae of the fish, so the switch is probably irreversible." That is, we have initiated a feedback loop in nature, so how better to represent this sonically than with a powerful wave of feedback?
Active for over 25 years, the Zurich-based Phillips has been a member of Fear Of God, Ohne and Dead Peni, and in various guises employs a variety of tools utilizing voice, performance, multimedia, loops, and drum machines. His most profound engagement has been with field-recordings, in particular of the sounds of insects, frog and other animals, which make appearances in some passages here. The practice of field-recording pertains to his sonic activism and the idea of the 'era of the 'humanimal,' a take on the relationship between human activities and other species (and the broader ecosystem in general) that problematizes conceptions that keep these categories overly separate. In his global travels over the last two decades he's worked to produce an archive of field-recordings of animals and their environments. Although the hypnogogic effects of the sounds can speak for themselves, his work as an activist leads him to accompany his performances with this pamphlet expounding on the the importance of the insect world for human existence.
A collaboration with Naples' Aspec(t) seems perfectly natural, and the resulting album quite cohesively blends Phillips aesthetic into the singular soundworld of the duo. Comprised of Mario Gabola (also of A spirale), who contributes sax, feedback and electronics, and Mimmo Napolitano (aka SEC_), who manipulates a reel-to-reel tape player and feedback from a no-input mixer, Aspec(t) represents a highpoint in the convergence of electroacoustics, noise and free improv. Both members of the duo have created mixes for the LCNL series, granting a window into their inspirations, aesthetic, and processes. Past albums, such as Abbatoir released on the French Nunn Records, showcase this style well.
A joint release by Noise-Below.org and Excrete Music #3, I shouldn't neglect to say a word about the truly exceptional packaging. Any who picked up SEC_'s masterpiece Outflow won't be surprised by the attention to detail given to the packaging, but images, design, and paper choices really do come together beautifully, serving as a fitting house for an album as showing as much dedication asMedusa.
(Joseph Sannicandro)
http://acloserlisten.com/2014/11/07/dave-phillips-aspect-medusa/

DAVE PHILLIPS & ASPEC(T) - Medusa (CD by Noise-Below, 2014)
Esordisco con le parole sciaguratamente profetiche (mi piacerebbe pensarla in altre maniere) dell'ambientalista britannico Monbiot, perché il suo articolo "Feeding Frenzy" ha liberamente ispirato questo disco e perché riassumono – vale sia per lo scritto sia per l'album – il valore simbolico di questa strana, quasi aliena, creatura.
È comunque necessario qualche piccolo preambolo su questo lavoro a sei mani. Sappiamo delle implicazioni che lo svizzero Phillips ama dare ai suoi lavori, quei suoi tentativi, quasi, di riempire col rumore il vuoto o la spaccatura lasciati tra natura e "civiltà" dall'ignavia degli uomini. Proprio nel periodo in cui Medusa iniziava a prendere vita per mano dei due Aspec(t) Mario Gabola (A Spirale) e Mimmo Sec_ Napolitano (2011, quindi), Phillips concludeva la gestazione di gran parte dei brani che sarebbero andati a comporre Homo Animalis. Con Insect (2003) già alle spalle e sempre con uno svizzero (Norbert Möslang, però) a raccoglierne successivamente una sorta d'eredità spirituale con la soundtrack del film "The Sound Of Insects", possiamo parlare di Medusa come il prosieguo ideale più limpido (a dispetto degli oceani oscuri che dovremmo attraversare) della discografia dell'uomo-Schimpfluch.
Sentendo Medusa, capiterà spesso – a intervalli – d'imbattersi in emersioni sonore sparute (come di bolle d'aria) o in vibrazioni a scandaglio che raschiano il fondale marino, quasi a focalizzare l'attenzione su un aspetto chiaro e preciso sin da "Non Central Nervous System Non Cephalized Body": facilitare, in un certo senso, l'ascolto, confondendo però allo stesso tempo la comprensione. Echi pacificatori ("If The World Weren't Such A Beautiful Place", "Hammerhead") strozzati – o forse asfissiati – da un'urticaria viscida ("Ripped To Shreds") e appiccicosa ("Trash Vortex"), tra detriti elettroacustici ("Wobbling On The Edge") mescolati da reti a strascico in masse di liquami e lische ("But It Tastes Good"), senza dimenticare tutta la sana dose di feedback, come se ci fosse una certa nostalgia per un periodo nel quale la no-input faceva scuola in lungo e in largo e di quando un mixer – cavi in abbondanza e gain al massimo – era tutto ciò di cui si aveva bisogno.
È da precisare che tutta quest'area di musicisti partenopei da anni instaura collaborazioni del genere in questi ambiti (Andy Guhl su tutti), ma è significativo avere, finalmente, un lascito tangibile ad attestare ciò, anche per merito della greca Noise-Below, che nel frattempo manda fuori pure la nuova cassetta di Sec_ e Olivier Di Placido.
Tommaso Gorelli - http://www.thenewnoise.it/aspect-dave-phillips-medusa

DAVE PHILLIPS & ASPEC(T) - Medusa (CD by Noise-Below, 2014)
Dave Phillips, actionniste sonore, manipulateur de sources enregistrées qu'il agite comme d'autres font du combat de rue, est également soucieux de la cause animale et prends souvent ses modèles dans notre écosystème. Ici avec le duo napolitain Aspec(t) - SEC_: ordinateur, bandes, synthétiseur analogique, radio, et Mario Gabola : feedback, sax, percussions - ils nous livrent une suite de cut-ups aiguisés façons coup de poings au milieu de la figure ou cris d'aliénés. Complètement barrée et rondement menée, cette rencontre est véritablement jouissive à travers la richesse de ses propositions ! Hautement recommandé !
VITAL WEEKLY #934
DAVE PHILLIPS & ASPEC(T) - Medusa (CD by Noise-Below, 2014)
Ah noise. Noise of the variation that I like. It all started with an article about eating fish - www.monbiot.com/2007/04/03/feeding-frenzy/ - recommended to read first. At the foundation of this release is source material recorded by Italian noise improvisation duo Aspec(t) in April 2011 and the scissor approach of Dave Phillips when it comes to transforming this material. Now, an average noise artist would probably play this material through some distortion pedals, adding more noise and fuzz to it; Phillips on the other takes the material apart in an old fashioned tape manner: cutting it up, re-arranging it and maybe (just: maybe) adds some of his own material to it, by colouring it with sound effects. Phillips is a master at this technique I think. He cuts his material very short, adds silence (very important), so whatever short sounds we have, get room to breath. Sometimes he creates a loop, a repeated bang such as in 'Hammerhead', adds field recordings, a rudimentary synth here and there, and cuts it off, and switches on something entirely new. That makes these fifty minutes a great trip, a loud one too, as he records his sound loudly, with many swift changes. An excellent manifestation of musique concrete in its most crude and pure form. There is of course the political undercurrent - save the animals, become a vegan - that is also part of the work of Dave Phillips - but it's not forced down your throat. The message is subtle and the music stands by itself. I am not sure if that is what Phillips would want, but to me it's like that. Top noise release. (FdW)

Show del percussionista Robbie Avenaim: musica elottroacustica con estensioni roboticche
Guarda la clip della performance dell'australiano live al circolo Arci Ferro3
POMPEI - Assistere ad una performace di musica elettroacustica improvvisata , non è sempre una dimensione di facile fruizione/interpretazione. Il più delle volte il no sense dirompente della materia sonora può essere una componente di disturbo tale da allontanare l'audience. Non nel caso di ieri sera, al circolo Arci di Scafati, Ferro 3, dove un combo ben assortito di sperimentatori del suono napoletano (Mario Gabola e Maurizio Argenziano in arte Aspirale, Mimmo Napolitano in arte sec_) hanno incontrato il musicista percussionista Australiano Robbie Avenaim.

I congegni da lui concepiti ed usati rappresentano una estensione robotica dei propri arti. Appendici meccaniche gestite attraverso un uso sapiente dell'ormai noto Arduino.

La massa di rumori scaturiti dagli inneschi di feedback in loop, su microritmiche asincopi sembra quasi pulsare nel suo incedere sbilenco che si tramuta in microcosmi di materia che riverbera negli spazi della stanza, trascinando man mano l'ascoltatore in luoghi ameni e surreali di lynchiana memoria.

Lontani ormai dalle prime sperimentazioni del XX secolo con i grandi pionieri Schaffer, Boulez, Cage, Berio e Nono, il suono del caos trova una sua specifica collocazione nel segmento delle arti musicali della contemporaneità. Deleuze in una delle sue interpretazione diceva che "il suono non è più da sottomettere ed organizzare, bensi materia in movimento in continua traformazione". (lino monaco)

http://www.ildesk.it/newslong.php?id=505

VITAL WEEKLY #811

ASPEC(T) - Abattoir (CD by Nuun - Pulsions)

[...] The Italian duo Aspec(t), being SEC_ on revox tape recorder, computer samples, no-input feedback manipulated on tape and Mario Gobola on feedback and acoustic saxophone, minitape, self-made electroacoustic chain of feed-drums and piezo-speaker feedback. Their music was reviewed before and comes from the world of improvised music. This new CD is no different, but it seems to have progressed from before. The eleven pieces range from a mere thirty seconds to just over six minutes and in general have an aggressive feel to it. Things bounce around in feedback, objects collide to each other and all the major forces are used to make it loud and brittle. But Aspec(t) know how to capture the right feeling of surprise: their use of collage methods are very well done. Abrupt changes, sudden moves, small gestures, big transitions. Action music from the world of electro-acoustics, musique concrete, an excellent montage of sounds. It reminded me of the best work of Jerome Noetinger, when playing with his film friends of Metamkine. Aspec(t) have grown and become a force to be reckoned with. On tour these weeks, but sadly not making it to my part of the world. A pity, I'd love to have seen this in concert. (FdW)

ASPEC(T) - Abattoir (CD by Nuun, 2011)
ASPEC(T)
, ça pourrait être Keith Fullerton Whitman et
Mat Pogo
plongés dans le mazout. Parce que les collages du duo
Mario Gabola
(sax, minicassette, feedbacks, etc.) / SEC_ (bandes, samples, feedbacks, etc.) sont extatiques, sombres, frénétiques, et même parfois... lugubres !
Leurs bidouillages violents font remonter une bile de velours noire qu'on ignorait être en nous. Leur noise est bestial (des cris sont mixés à des aboiements) et leur langage inquiète plus que deux raisons.
Abattoir
, c'est encore les carcasses de Soutine au balcon et les fantômes de Bacon en sautoir. Inutile de dire qu'il est urgent d'aller voir l'exposition.
Pierre Cécile @ Le son du grisli

ASPEC(T) - Abattoir (CD by Nuun - Pulsions)
SEC_: magnétophone Revox, ordinateur, feedback. Mario Gabola: feedback controlé par saxophone, micro et hauts-parleurs. Après Waspnest sorti en 2010, ce deuxième disque, enregistré en 2011, du duo italien, continue dans cette tension-détente permanente, ces accidents qui claquent comme un coup de feu, et ces résonances étendues mais toujours tendues. Un art maitrisé du feedback et de la bande. De la dynamite en boîte ! Recommandé.
Aspec(t) - Abattoir (CD by Nuun - Pulsions)
η γνωριμία μου με τους aspec(t) έγινε λίγο πριν το τέλος του absurd όταν του ζητήσαν να συμμετάσχει στη συμπαραγωγή του ντεμπούτου τους waspnest, που δυστυχώς λόγω οικονομικής δυσχέρειας δεν μπόρεσε να συμμετάσχει. κρίμα, γιατί ήταν δισκάρας. απο τα πολύ γαμάτα ντεμπούτα νεοεμφανιζόμενου γκρούπ.
όχι όμως ότι η δεύτερη κυκλοφορία τους του abatoir στη nuun πάει πίσω. 11 κομμάτια με ήχους που παίζουν μεταξύ ηλεκτροακουστικής, musique concrete, aktionισμου, ώρες ώρες σου φέρνουν στο νού marchetti / noetinger αλλά βλέπεις ότι έχουν το δικό τους ύφος και ότι εξελίσσονται. απο τα γκρούπ που αν συνεχίσουν έτσι θα απασχολήσουν αργά ή γρήγορα μεγαλύτερη μερίδα κοινού διψασμένο για φρέσκο γεμάτο ένταση και δημιουργικό ήχο!
Nicolas Malevitsis

ASPEC(T) - Abattoir (Nuun, 2011)
Arrivati al terzo album il duo napoletano degli Aspec(t) (gente di A Spirale, SEC_e Weltraum) e dopo un titolo in spagnolo e uno inglese optano stavolta per il francese, omaggio forse all'etichetta che li produce. Abattoir vuol dire macello e ascoltando il disco dobbiamo ammettere che nessun altro nome poteva essere più adatto.
Non fatevi fuorviare dall'uso comunemente negativo che si fa della parola, questa non è bassa macelleria ma fredda violenza che disseziona chirurgicamente il flusso sonoro e lo ricompone in blocchi squadrati, di concretezza fisica, spaziale: tentando un paragone col mondo dell'arte, diremmo che più che agli animali sotto formaldeide di Damien Hirst siano prossimi a certi lavori di Francis Bacon, dove i corpi sono sventrati fino a divenire irriconoscibili (e allo stesso artista sembra rifarsi l'immagine di copertina). Parimenti trasfigurate sono le fonti sonore: se l'elettronica e i nastri non hanno per loro natura un suono definito, il sassofono, unico strumento acustico presente, è quasi sempre irriconoscibile e rivela sé stesso solo nella finale, liberatoria Welcome To The New Barbarian. In questo senso è significativo che gli unici suoni riconoscibili, utili ad evitare un'eccessiva astrazione, provengano da oggetti non propriamente musicali, come una moneta che rotea su un piano o la suoneria di un telefono: gli Aspec(t) ridisegnano lo spazio partendo dalla realtà e ce lo restituiscono deformato come in un quadro cubista dai colori plumbei. In un'opera così curata, nulla è ovviamente lasciato al caso: ogni incastro, ogni contrasto fra pieni e vuoti, è soppesato con attenzione, e il risultato è una specie di jazz concreto e spigoloso, che muove dall'insegnamento del John Wiese più crudo e ogni tanto si toglie lo sfizio di sconfinare nei campi del power eletronics (Intorno Al Drago) e dell'hardcore digitale (Contratti O Sabotaggio?), disegnano un percorso difficile ma coerente, dove anche il nome dei brani sembra suggerire una possibile continuità narrativa o addirittura un ipertesto (alcuni sono rubati a titoli di libri). Non un ascolto facile, ma un'esperienza appagante che si protrae ben oltre l'ascolto.
Emiliano Zanotti

THE WIRE #325 - March 2011
ASPEC(T) - WASPNEST (LP by Toxo/Viande/Fratto9)
No Wave demolition is in order from this Italian duo, whose acrobatic brutality comes through an aktionist use of sax, electronics, voice and drums. Mimmo Napolitano (aka SEC_) and Mario Gabola quickly accelerate their shredding noises with reckless velocity of Mike Patton-esque glossolalia, splattered sax and guttural amplifier distortion. As quickly as Aspec(t) achieve turbo speed, the burn-out is equally as abrupt. The two slump into extended passages of dampened activity as if catching their collective breath through the comparatively restrained concoctions of free form drum kit skitter, porcine grunts and smeared feedback. Once recovered, the two blast off once again towards another nitrous-fuelled car crash.
VITAL WEEKLY #762
ASPEC(T) - WASPNEST (LP by Toxo Records)
The world of radical improvisation is represented here with the music of Aspec(t), an Italian duo of SEC_ on laptop, processed tapes, analog synth and radio and Mario Gabola on feedback and acoustic sax, resonant/feed drums. They both have an extensive career with such bands as Asp/SEC_, Weltraum, Endorgan, A Spirale and Strongly Imploded. All of these, as far as I heard them, are to be found in a similar area of improvisation meeting noise. Themselves they refer to Pateras/Brown/Baxter, John Butcher, Jim Denley, Rudolf Eb.er, Dave Phillips, Sudden Infant, Lionel Marchetti and Jerome Noetinger. This is shown in their music. Partly analogue, sometimes massive noise based, but also with a strong love for small sounds and odd textures. The cover lists eleven tracks, but I found it hard to detect eleven different tracks. It could have been one per side, or thirty, as far as I could tell. Not that it really matters of course, what counts is what's pressed in these grooves. And that's something I like very much. I am known as someone who doesn't love noise being over the top, but when noise is presented as something that comes in a bigger context, either free improvisation, totally controlled or something in between, then you have my blessing. Aspec(t) does exactly that: their loudness fits well with the softer moments, the free jazz of the saxophone, the banging of a drum, and the controlled textures of the electronics. Controlled mayhem as such, but excellent in its disorderly fashion. A very fine record, would be great to see them perform live. (FdW)
Address:
http://www.toxorecords.com

ASPEC(T) - Waspnest (LP, Toxo Records, 2010)
Aspec(t), the duo of SEC_ and Marion Gabola, have created an album of great intensity.Through a combination of laptop, processed tapes, analog synth, radio, feedback and acoustic sax, and resonant/free-drums, the duo are able to conjure a form of music that bridges two traditions I never imagined being linked in any manner, and yet after hearing this album the connection makes perfect sense. Essentially Aspec(t) merge old school European improvisation (think of Evan Parker, John Butcher) with the visceral "aktion" noise of Schimpfluch-Gruppe and those who travel in their orbit (Rudolf Eb.er, Dave Philips, Joke Lanz). The album as a whole is so full of pregnant pauses, clank, clatter, unholy vocals/growling, and noise explosions that, at first, it seems impenetrable. The tracks are relatively short, and with no obvious beginning or end, they tend to bleed together, adding to the exhilaration of the listening experience. Once the album settles in, though, it becomes utterly engaging. And what shines through on repeated listens is a clear love of texture, and this is especially evident in the digital manipulation of the Mario Gabola's saxophone. This sound, which lies at he heart of the album, adds much depth, and the two push the instrument into such unfamiliar realms that it is nearly unrecognizable. This is an album which wonderfully defies casual listening.
8/10
Kevin Harrison

ASPEC(T) - Waspnest - LP Toxo/Viande/Fratto 9 UnderTheSky [IT]
Area: Avanguardia
Voto: 8
Il secondo album di Aspec(t), la creatura Mario Gabola (feedback sax/feedback drums; A Spirale) e SEC_, alias di Mimmo Napolitano (electronics/laptop, tapes, synth), è un viaggio in un inferno trafficatissimo di rumori concreti, bordate elettroniche, feedback, incursioni vocali gutturali, in un collage frenetico che tiene vivissima l'attenzione. Versione moderna e violenta della filosofia del bruitisme, la raccolta di queste undici particelle rumorose si pone a mezza strada tra la scuola della musica elettroacustica romana (Mike Cooper, Fabrizio Spera, Elio Martusciello), il gesto intransigente degli AMM e le nuove avanguardie dell'improvvisazione radicale che si muovono al di fuori anche dei circuiti del jazz d'avanguardia. People Of Refusal e Birdnest valgano come parte del tutto: modulazione di larsen, esplosioni harsh à la Gomikawa Fumio, hiss elettrostatici, stridori d'ancia (Gabola processa il sax attraverso un sistema percussivo risonante). Un album severo che esige concentrazione e promette vibrazioni pericolose.
Andrea Prevignano

BLOW UP # 153
ASPEC(T) - Waspnest - LP Viande/Toxo/Fratto 9 UnderTheSky - 11t - 27:01
Una cruda ecologia sonora, determinata non tanto dalla visione di un'Arcadia ripiantata, bensì dalla totalizzante manipolazione del rumore come unica materia formante. Un buco nero che chiama a sé la musica e la rivomita sotto forma di brandello acustico deformato e deformante. Ben poche concessioni, mai un attimo di stasi al cortocircuito. Va detto: di fronte a lavori di questo tipo - giusto sottolineare che siamo di fronte a un bel vecchio vinile a due lati (Black Side e White Side) - non ci si può non inchinare di fronte al coraggio dell'operazione di SEC_ (laptop, ecc...), Mario Gabola (sax e tamburi, all'opera anche negli A Spirale) e di chi ha sostenuto la pubblicazione. Un vero pugno nello stomaco, come viene anche musicalmente mimato nel corso della perfromance: se la discarica di Terzigno esplodesse suonerebbe così. (7)
Michele Coralli

ASPEC(T) - Waspnest - LP Toxo/Viande/Fratto 9 UnderTheSky
Op het handjevol cd-r's dat het Italiaanse noise- en improvisatietrio Aspec(t) totnogtoe uitbracht was muzikaal geweld een dominante factor. Gitaar, sax en elektronica trokken steevast een muur van lawaai op waardoor het de groep vaak ontbrak aan enige nuance. De LP 'Waspnest', waarop Aspec(t) door het ontbreken van gitarist Maurizio Argenziano is herleid tot een duo, breekt enigszins met die traditie. SEC_ (elektronica) en Mario Gabola (feedback sax en feed-drum) kiezen samen namelijk voor een heel ander geluid waarin momenten van onversneden noise eerder zeldzaam zijn. Dankzij sferische passages, subtiele accenten en een hoop vocale nonsens, weet het duo een zekere spanning op te wekken die gedurende elf korte tracks wordt vastgehouden.
Over de audio
In de track 'E.A. = Environmental Assasination' haalt Aspec(t) alles uit de kast. In snel tempo passeren alle technieken en middelen die het duo voorhanden heeft via kleine stoten elektronica, vocaal gegrom, droge geluiden van de sax en portie feedback. Af en toe wordt het muzikale verloop onderbroken door een absolute stilte. Middenin de track is er een korte maar intense uitbarsting van ruis en geschreeuw, die een passage inleidt waar de spanning te snijden is. Met geluiden van bellen of klokken (tevens een belangrijk element in Weltraum, een andere band van elektronicamuzikant SEC_), kleine laagjes feedback en dreigende elementen diep in de achtergrond, wordt daarmee een brug gebouwd naar de plaats waar alles opnieuw even overkookt.
Joachim Cuelemans
http://www.kwadratuur.be/audio/detail/aspect_-_e.a._environmental_assasination/

ASPEC(T) - Waspnest - LP Viande/Toxo/Fratto 9 UnderTheSky
Menzionavo Weltraum e A Spirale proprio di recente a proposito delle glorie minori che meritano di essere ricordate, tenute d'occhio, coccolate e salvaguardate, il perché lo dicono i materiali e quello che esprimono in sede live. Aspec(t) riunisce giustappunto Mimmo Napolitano ovvero Sec_ dei Weltraum al synth e Mario Gabola degli A Spirale al sax e ai feedback, una joint venture ai limiti del devast(o)ante.
Volontariamente o no, dischi del genere reincarnano al meglio lo spirito di Ayler e Coleman e se gente tipo C-Spencer Yeah, John Wiese, e Aaron Dilloway non vi lasciano frigidi, questo disco potrebbe riservarvi delle belle scariche di adrenalina. Elettro-acustica? No, elettro-cution forse! Fra fruscii, impennate di sax, suoni sinistri, sghembi e dissonanze da musica concreta in camere d'acciaio, l'unica impressione è che l'unico vero Disintegration sia questo e non quello di Robert Smith. Pur non essendo immune da un'attitudine avant-jazzeuse probabilmente comune al sostrato dei due musicisti, nei tagli della registrazione, nel montaggio e negli incastri micidiali in cui si riescono ad intersecare i due emergono delle brutture così fini che sfido chiunque a dire che dietro ad un disco del genere non ci sia un lavoro sulla sintonia maturato sessione dopo sessione. Sferragliate veloci fra rumori bianchi, feedback assortiti, panpottaggio che porta il suono da un orecchio all'altro con giochi di produzione che dimostrano come Napolitano sappia far rendere i lavori di cui fa parte al meglio delle loro possibilità. Un vinile spinto a mazzate dalle psicosi e dall'incomunicabilità dei tempi da cui è generato. Mi ripeterò fino all'ossessione, ma dischi come questo dimostrano (se ce ne fosse ancora bisogno) di come la distanza fra alcune cose di grido made in usa e altre parti del globo sono completamente azzerate. Napoli come N Y... maybe... uè uè!
Andrea Ferraris - 29/01/11
http://www.sodapop.it/rbrth/content/view/1130/9/

Aspec(t) - El obsceno pajaro de la noche - CDr - FFHHH 2009
From Naples, Aspect(t) pop right out of the hole with a full frontal assault, and any Borbetomagus comparisons are highly in order. This could be Snuff Jazz Jr. Still, one can't help but love their brutal acid, derivative or not. This is cathartic, blistering anti-jazz, full of horror and gallows humor.
A trio, Tenor, Guitar and Synth/Electronics, Aspec(t) never stops moving, similar to the fully automatic salvos of Dror Feiler. Fully kinetic "electrocore," the one immediate differentiation can be heard with flashes of rhythm which provide the needed contrast from kindred spirits doing similar work, making them, to my mind, immediately recognizable; a difficult task these days.
"L'osceno Uccello Della Notte" is composed of five distinct but cohesive tracks of live improvisations, each bringing its own depth charge of sordid fun. Recommended to lovers of noise or latter day improv. 9/10
P. Somniferum (30 June 2009)
http://www.digitalisindustries.com/foxyd/reviews.php?which=447

THE WIRE # 302 - April 2009
ASp/SEC_ - s/t (Viande Records, 2009)
Committed, quirky improv from Naples, where not so long ago you might have been hung as an avant gardist for playing unothodox changes on "Funicoli Funicola". The ensamble name comes from A Spirale basement studio and synth/electronics man Sec_, who shapes the music's freejumping utopics. One takes a strong sense of travelling through quite disperate landscapes from this music, which evoke pastoral spaces one moment, urban clutter the next, with spacy escapism surfacing every now and then. Though the basic palette is quite small, concentrating on unemphatic sounds, it's distribuited in an exhilarating way. Maurizio Argenziano's guitars and Mario Gabola's reeds are the other main components with a couple of vocal and "plastics" – search me – interventions by Emilio Barone.
Brian Morton

Aspec(t) - El obsceno pajaro de la noche - CDr - FFHHH 2009
Improvvisazioni registrate nello studio degli A Spirale a cavallo fra Settembre e Ottobre 2008, successivamente martellate nel tepore casalingo da SEC_. Aspec(t) schianta e frantuma il linguaggio più colto del trio Asp/SEC_. Gabola ed Argenziano (A Spirale sax e chitarra), e SEC_ (Weltraum synth ed elettronica), si producono in trentatre minuti di crudità assortite, colonna sonora ideale per denti che saltano e costole che si crinano del vostro datore di lavoro. Lo carichi sul tuo lettorino mp3, o il tuo ipod, e, come apre bocca, per dire le solite stronzate sul tuo ritardo, sul tuo fiato, sulla tua barba troppo lunga, gli rifili una carezza che lo incastra nella fotocopiatrice posta accanto alla macchina del caffè. Faccenda di lividi e tagli profondi questo "El Obsceno Pájaro De La Noche" (titolo tratto dal lavoro del 1970 dello scrittore cilenoJosé Donoso). Il post punk/free core degli A Spirale e l'elettronica di SEC_, marciscono al sole, rilasciando un rivolo fetido di liquami non meglio identificati. Noise/free/jazz/core livido, sudato ed implacabile. Dove l'accartoccio su se stessi è pratica quotidiana. E dei microsuoni, delle maggiori raffinatezze, presenti in Asp/SEC_ non rimane traccia. Brötzmann, ed il suo "Machine Gun" presi a calci nel culo, e sbeffeggiati dai Borbetomagus di "Barbed Wire Maggots" in botta speed. L'osceno Uccello Della Notte apre crepitante, il primo tocco di corde, gentile come una ruspa, poi Gabola sfiata via qualcosa in più di mezzo polmone e l'elettronica è un cortocircuito attivo a piedi bagnati. M2HB e M2HBB mimano la distensione ma è solo questione di mimesi appunto. Rilassanti e dissetanti come bere liquido indecifrabile da un bicchiere abbandonato nei pressi della stazione centrale.
Ostici e senza compromessi fra attrazione ed abbandono.
Semplicemente ribollenti di vita.
Il futuro (per quel che vale...) gli appartiene.
4/5
Marco Carcasi (10 May 2009)
http://www.kathodik.it/modules.php?name=Reviews&rop=showcontent&id=3678

Aspec(t) - El obsceno pajaro de la noche - CDr - FFHHH 2009
Ne avevamo già parlato bene qualche tempo fa e "L'Osceno Uccello Della Notte" conferma la notevole qualità del trio napoletano, un'improvvisazione elettroacustica squarciata da bordate di sax brotzmaniano (non a caso la copertina del cd è una rielaborazione della grafica di "Machine Gun"). Suonano come una versione aggiornata dei Borbetomagus, oppure come un aberratnte incrocio tra Voice Crack e Sightings mentre Vandermark sputa un polmone nel sassofono. Altro che "paese d'o sole": qui solo macerie fumanti, scorie radioattive, devastazione. (7)
Massimiliano Busti - June 2009