SEC_ is the moniker of Mimmo Napolitano, electro-acoustic musician and composer from Naples, Italy.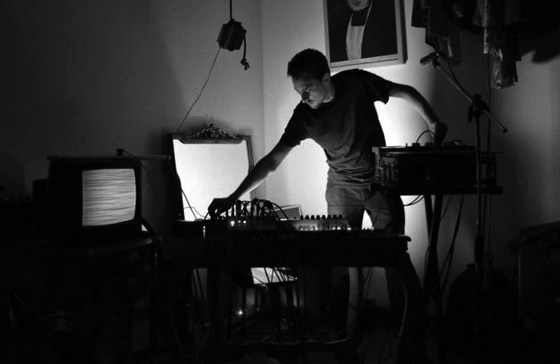 "Barely a week ever passes by it seems without the discovery of another talented artist from Italy, it really is a very fertile ground in so many areas of modern composition, techno, industrial, noise, drone, abstract electronics, electro-acoustic, free improv, as well as any other aspect of musique concrète you care to mention. The latest producer to come to our attention is one 'Mimmo Napolitano' aka SEC_ whom you may, or may not have heard of, his main instrument of choice is the Revox Reel-to-Reel recorder, he employs the device primarily as a feedback loop/distortion unit, mutating sounds into often violent explosions, and compressions, resulting in quite unique, highly original aural tapestries that sound like nothing else we've ever heard before, comprising a myriad of gashes, gouges, and blasts of abrasive texture, that hack into droning industrial ambiances, in an uncompromised sound not for the faint hearted, in this new frontier for musique concrète.
Mimmo is by no means a newcomer, as a member of groups Weltraum and Strongly Imploded, and the trios Endorgan and Aspec(t), (the latter of which is still an active project) with whom he released several records in the period 2009-2011 some of them on his very own Toxo Records label. Next up the collaboration, 'Testacoda' with Jérôme Noetinger can be traced back to 2012 on Bocian Records, as well in the same year the Polish label released his debut solo CD 'Moscaio', this is where we can hear the SEC_ sound signature really start to take shape. In 2013 second full length 'Outflow' arrived via DEN Records gaining him greater attention with the PIARS prize (Premio Internazionale Arti Sonore), it's a real force of nature, a noisy, industrial, technoid affair but undeniably remains 'concrète', indeed to our ears this already stands as one of the best, most singular records of the 21st century. It's clear Napolitano is never more happy than when experimenting, 2014 would see cassette release 'Stalattie', a sublime marriage of his unique approach to improvisation and sound design, where the blackest of dark ambiance reverberates with doom metallic resonance, then in 2016 arguably his most obscure release to date, 'Mefite' brings his sound into a surging conflict with more traditional aspects of musique concrète and radioplay, meanwhile his latest effort from 2017, 'W.H.E.A.D.' released on Second Sleep, sees a return to the techno-like aesthetic of 'Outflow', with harsh dronescapes and unrestrained patterns of rhythmic noise. This maverick producer has very quickly gained respect amongst his peers, as well as the aforementioned collaborations, works with Dave Phillips, Valerio Tricoli, Dario Sanfilippo, Olivier Di Placido, Francisco Meirino, and many others have followed, as well, compilation appearances for prominent labels such as Mikrotron Digital, and Dragon's Eye Recordings, have further bolstered his reputation.
Feedback by its very nature can present unpredictable and chaotic results as the artist fights for control, but Napolitano has a handle on it like we've never heard, he holds such mastery over his machines that there feels something quite organic, and natural, even effortless (but of course we know it's far from that) about the results, achieving an incredible level of coherence which to say the least, sounds so very satisfying, we truly are in awe of this brilliant, young artist."
words by Richard Fowler @ concretetechno.com
Download complete biography and CV